After closing the doors of the historic Norwood Masonic Lodge, members have donated $10,000 to Hospice Peterborough from the sale of the building.
"We are incredibly touched that Norwood Masons have thought of Hospice Peterborough at this time and thank them for this meaningful gift," says Hospice Peterborough Executive Director Hajni Hős. "We will ensure this gift is used to provide our accredited palliative and bereavement services to local residents in need and we will honor the Norwood Masons for their incredible generosity on our Donor Wall."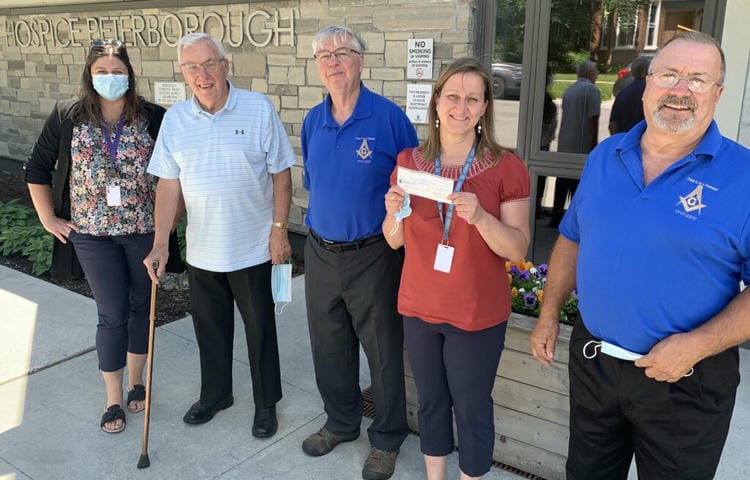 The historic lodge has existed since 1870 and was housed in a former Pentecostal church. The Norwood Masons purchased the building about 40 years ago and turned it into a lodge where the membership would hold meetings and gatherings, says senior member Doug Pearcy.
Since the start of the pandemic, Mr. Pearcy says, the building has been largely vacant and it became unfeasible to maintain so the membership made the difficult decision to sell in October 2021. Under the group's charter, all proceeds must be used for charitable purposes and the Masons are also donating to other local non-profits including Brock Mission, Crossroads Women's Shelter, the Peterborough Regional Health Centre, the Peterborough Humane Society, the New Canadians Centre, Hospice Norwood, local food banks, the Five Counties Children's Centre, Campbellford Memorial Hospital and The Bridge Hospice in Warkworth.
"The legacy of the Norwood Masons will live on through these gifts that we hope will continue to improve our local communities," Mr. Pearcy says. "We are glad we can contribute to the good work of Hospice Peterborough in helping so many people through life-threatening illness and end-of-life care."