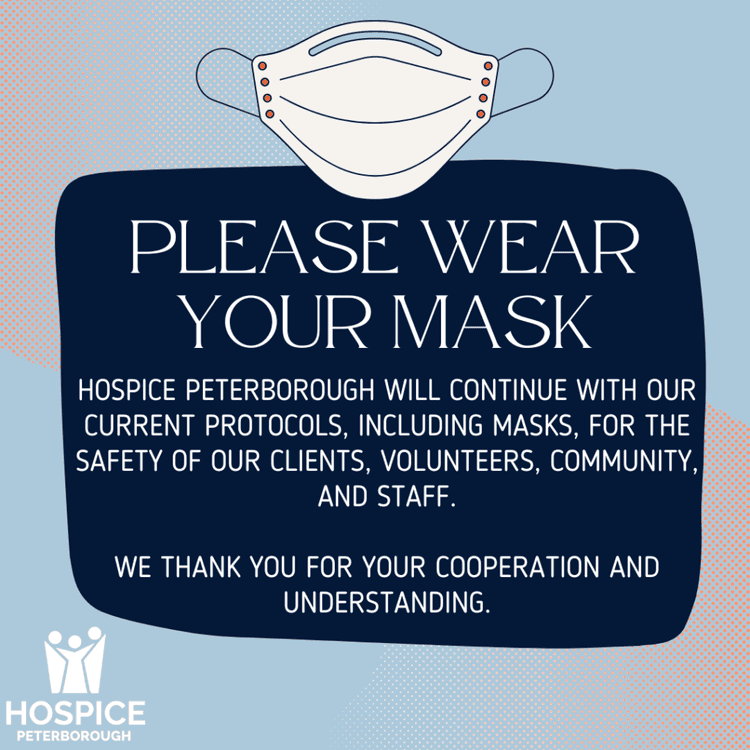 While at midnight on Saturday, June 11 the last of the Ontario mask mandates are set to expire, many healthcare settings in the province will continue to require masking in their facilities.
Upon review by our Outbreak Management Team, and in alignment with current public health guidance and our partners at PRHC, Hospice Peterborough will be continuing with the current protocols that are in place. These include donning a new medical mask upon entry (provided by Hospice Peterborough), screening at the front desk and enhanced cleaning and infection-control measures. Rapid Antigen Tests continue to be available for those who choose to be tested.
As a high risk setting, we have a responsibility to provide a safe care environment and we know that masks are one of the most effective ways to do so.
Thank you for your cooperation and understanding as we continue to strive to provide compassionate, quality, and safe care to those at the end of life, those living with a life-threatening illness, and those who are bereaved and grieving.
We will continue to monitor any changes and will communicate in a timely manner. With questions or for clarification, please reach out to Executive Director Hajni Hős hhos@hospicepeterborough.org or 705-742-4042.