A lot happening on the site in the past 48 hours!
When I walked by the site at 9am yesterday morning, workers were demolishing the concrete wall and tiny entrance-way in the north alcove of Heeney House. That felt dramatic to me. Then this morning at 9am, workers had removed the one-storey addition from the northwest corner of Heeney House…and by 2pm this afternoon the entire two-storey addition had been torn down! So…below you have a number of timelapse series of the demolition from a few different angles. There is also some video footage and a slide show of photos profiling the House from a number of angles…dramatic! [showhide type="post"]
In case that wasn't enough, below there is also a photo of the new building foundation area. The large orange tarps are wrapped around the wooden forms that will hold the newly poured concrete. The tarps are sticking up because there is alot of rebar to help reinforce the concrete. At each end of the foundation are heating machines that will pump warm air into the tarped "tunnel" to keep the concrete warm as it dries. Not sure when the concrete will be poured but I'm guessing this afternoon or Monday. We promise to keep you posted.
[huge_it_slider id="16″]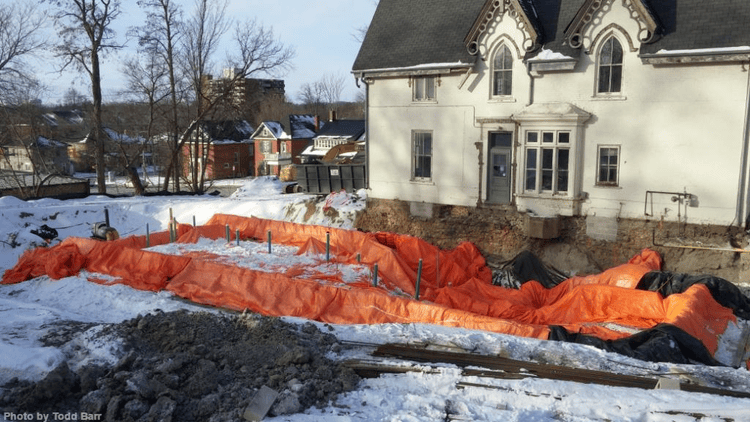 Want to keep up to date on the most recent construction activity? Sign up today and receive alerts directly to your email when new blog entries are made.