Wishful Seeing at 4th Line Theatre – SOLD OUT!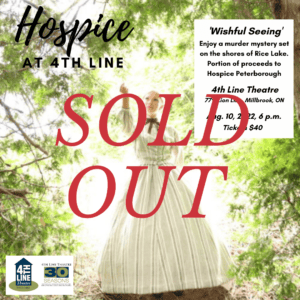 ***EVENT IS SOLD OUT! THANK YOU FOR YOUR SUPPORT!***
Please join us for an evening of outdoor theatre in support of Hospice Peterborough.
'Hospice Night' at 4th Line Theatre includes a performance of Wishful Seeing – a murder mystery set on the shores of Rice Lake in 1853 – with a portion of the proceeds supporting palliative and bereavement services in our community.
Hope to see you there.
Wednesday, Aug. 10, 2022 at 6 p.m.
4th Line Theatre
779 Zion Line, Millbrook, ON
Tickets $40
Limited tickets!
Summer Sips – SOLD OUT

We are thrilled to finally be able to invite you for an evening in beautiful Bailieboro at Rolling Grape Vineyard.
We hope you can join us for dinner, drinks, and live music.
Thursday June 2nd, 2022 | 6pm – 9pm
Rolling Grape Vineyard
260 County Rd 2 Bailieboro ON
Tickets $80 – includes a $35 tax receipt
Limited Tickets! – SOLD OUT
We can't wait to see you there!

All Public Health recommendations will be adhered to.
Giving to Hospice Peterborough
Death often brings a financial burden, which is why Hospice Peterborough is dedicated to providing our programs and services – free of charge.
Generous donations from individuals, businesses and foundations make our care possible. Your support helps to ensure that we can continue to provide support to people in our community living with life-threatening illness or grieving the loss of a loved one.
Hospice Peterborough receives funding from the Ministry of Health and relies on our community to provide 43% of our total operating budget.
Get Involved!
Volunteers are the heart and soul of Hospice Peterborough.
Every year volunteers spend hundreds of hours to help Hospice Peterborough with fundraising events like Hike for Hospice, Handbags for Hospice, and our Hospice Gala.
As a volunteer, you can share your time and skills, learn new skills, meet new friends, and make a difference.
If you would like to join a committee, help with fundraising or volunteer at an event:
Please contact Alison at acasey@hospicepeterborough.org or Aimee aoreilly@hospicepeterborough.org.
You can also call (705) 742-4042, or drop by 325 London Street to introduce yourself.
For more information about volunteering opportunities visit our Volunteering page.
Events
Hospice Peterborough welcomes third-party fundraising events that promote the work of Hospice and increase hospice care awareness. Third-Party Events are those created, managed and run by businesses, individuals, groups, and service clubs for the benefit of Hospice Peterborough.
Please contact Alison Casey at acasey@hospicepeterborough.org or Aimee O'Reilly at aoreilly@hospicepeterborough.org call (705) 742- 4042 to find out more.
Hospice Peterborough is about people helping people.