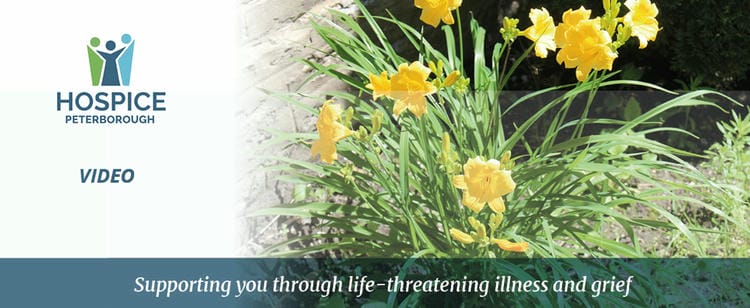 What Now? On the threshold of life, death and grief.
Presented by palliative and bereavement health care professionals Julie Brown, Red Keating and David Kennedy. Dying is one of the few experiences we will all share, yet little is done in our culture to prepare us for this inevitability and it's resulting bereavement and grief. Drawing on their vast knowledge and experience each episode is a conversation meant to enlighten and demystify the often difficult and emotional experiences of dying, death and bereavement. Presented in partnership with Hospice Peterborough.
Grief and the Holidays
The holiday season can be looked upon with dread for those that are grieving. Julie Brown, supportive care counsellor, offers her thoughts on grief and the holidays and invites you to participate in Hospice Peterborough's holiday event.
Paper dove templates can be found here.
Hospice Peterborough Podcast Back with Holiday Message of Support
The group discusses navigating the holidays when you are grieving. It can be a particularly hard time of year some may be dreading. The team discuss giving space and conversation to your grief through this season.
Hospice Peterborough podcast 'Conversations About Dying' features Julie Brown, David Kennedy and Red Keating discussing a variety of topics around death, dying, and grief. You can find all episodes for free on our YouTube channel.
Year 1: A Dream, A Nightmare - Dr. John Beamish
Dr. John Beamish, Medical Director of Hospice Peterborough, reflects on the first year at 325 London St. in his video 'A Dream, A Nightmare.'
Hospice Peterborough extends their sincere thanks to Dr. Beamish. During the height of COVID-19, to limit the risk of exposure to the virus, Dr. Beamish cared for all of our Residents in our Care Centre for months, without a day off.
Dr. Beamish is also one of the founding members of Hospice Peterborough and a tireless advocate for hospice palliative care.  Our community has been so fortunate to benefit from his dedication and expertise for over 32 years. Thank you!
The Light Inside
Completed in 2015 in partnership with Director Neal Hicks, The Light Inside focuses on living with a life-threatening illness and bereavement – telling the intimate story of two families learning to live with death as a companion, not an enemy. The film helps to explain the work of hospice palliative care…the work of Hospice Peterborough.
Notice: This video contains personal and powerful local stories about life-threatening illness, death and bereavement. If you or someone you know has recently been diagnosed with a life-threatening illness or experienced the death of a loved one, please consider watching this video with someone for mutual support in case strong emotions arise. Hospice also offers support. Please reach out if need be: 705-742-4042
Moments That Matter
What does Hospice mean to you? 10 Hospice Peterborough clients, their family members, volunteers, and staff shared what Hospice means to them in this touching video.
This video was completed in June 2019.
Join Us for a Walk Through
We thought you might like to see the progress with your new Care Centre as of June 7, 2018. Please join our Executive Director Linda Sunderland and some of the team for a walking tour through the new building.