At Hospice Peterborough we know how important it is to say goodbye. On September 12th, many gathered at 325 London Street to remember and celebrate the impact Langton House had on those who may have lived, worked, visited or admired the home. Those in attendance were invited to 'tie a ribbon' to the construction fence to recognize and give thanks to the building. These ribbons will remain on the fence throughout the construction process. Those in our community who wish to add their ribbon to the fence are welcome to do so. For more information please contact Hospice Peterborough at (705) 742-4042 or .
Over the summer months work continued to finalize our revised contract with Mortlock Construction and the basic updated design for Heeney House. It certainly was difficult watching the demolition of Langton House as we had so many hopes and dreams connected with the building. With Langton House gone the construction site for the Hospice Peterborough Care Centre looks very different.
Moving forward with the innovative new design being created by Lett Architects is renewing our excitement and offering new opportunities to serve our clients and families. We are working on a two level design that will match seamlessly with the Hospice Residence Wing. There will be a common entrance and improved accessibility between both wings. Lett Architects is designing an open, light-filled building that will offer enhanced community programming space on both levels with walkouts to accessible garden areas and a porch. We are looking forward to revealing the new design in November – stay tuned for more details.
Our Design and Furnishings Committee will continue their work to ensure a welcoming, homelike atmosphere that is vital for the programs and services we offer.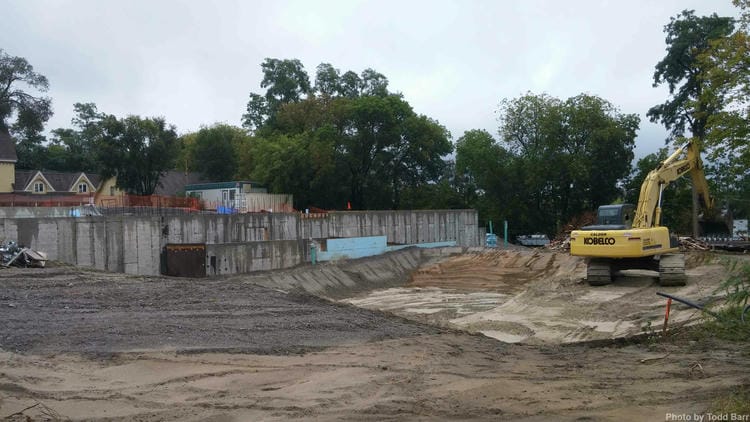 We remain committed to building the best possible hospice for our community and are working to complete this project as soon as possible as we know delays in the project negatively impact Hospice clients and their families. The new completion date is December 2018.
On July 14th, 2017 the Ontario Ministry of Health (MOH) announced new capital funding to support the building of residential hospices across the province. With the support of our Central East Local Health Integration Network, Hospice Peterborough immediately applied for funding. We have been in contact with the MOH and are waiting for a response. The results of the funding application will dictate what we need to do to complete our Every Moment Matters campaign. Our community and our Municipalities have been so generous; we truly hope the Province provides the funds needed to help complete our campaign.